Road Cycling in Greece's best site just 1h of sailing away from Porto Cheli
Morning
07:30Getting on board
Meeting point at Porto Cheli pier - https://goo.gl/maps/kG7UD9265Q8NcgTV9
Staying at a hotel / villa with beach access?
In that case, we may come and pick you up from a bay close by or for your hotel / villa berthing dock. Please let our agents know.
07:45Sailing
We head towards Leonidio's port called Plaka. The sail to there lasts approx 45 - 60 mins. The sea passage is typically very calm, which makes our boats achieving high speeds and be on time.
09:00Arrival at the starting point
09:15Bike fitting and adjustments
We fit you on the bike(s) ensuring a proper cycling position. (if you have any recent measurements please let us know in advance)
Short briefing
Sharing a few details and ideas on how to make the best out of the route
Cycling
Distance: 104km Elevation: 2100m
Swipe for more options!
Distance: 116km Elevation: 2200m
Swipe for more options!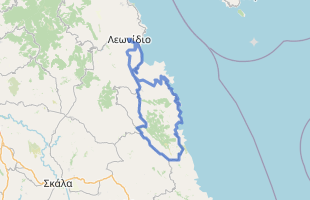 09:30Cycling the day's route
Two wonderful options with a lot of elevation and great breath taking sceneries. One is more oriented towards the mountain side on this part of Greece, which begins with a great climb of 30km with more than 1300m of elevation gain. The other one, whilst being hilly with two mountain passes, flirts with the sea and the riders cover probably one of Europe's best coastal routes. It is truly amazing. Swipe above to compare the two options.
Option to ease up the route
On this route we are able to offer a shorter version with less elevation. Let us know how your legs are and we will advise the changes of the rerouting.
After Cycling
16:00Light lunch [Optional]
after the ride we may have some lunch at a local restaurant and avoid feeling empty (the cost of the lunch is not included)
17:00Sailing
We sail back to Porto Cheli or your hotel. Again, the sailing time is 45-60mins.
18:00Arrival at the Port
And the cycling tour is completed.