Aegina - Aegina
Morning
07:30Shuttle to the port
We pick you up from your hotel and shuttle you to the Port of Piraeus.
Note: The pick up time is subjected to changes due to the ferry departure.
08:00Ferry to Aegina
From the port of Piraeus the group gets onboard the conventional ferry towards Aegina. The sail lasts for approx. 1 hour and a few minutes. We prefer choosing the conventional ferries over the fast ones for three reasons. Primarily, the time difference is not so great; the speed ferries cover the same in 50 minutes. Secondly, conventional ferries are more spacious and the passengers can move around their decks and look at the sea. Lastly, they are more reliable and comfortable to sail on, when the weather gets windy and the sea a bit rougher.
Cycling
Distance: 45km Elevation: 700m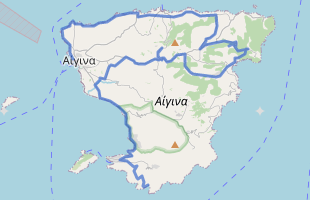 09:00Bike fitting and adjustments
We fit you on the bike(s) ensuring a proper cycling position. (if you have any recent measurements please let us know in advance)
Short briefing
Sharing a few details and ideas on how to make the best out of the route
09:30Cycling the day's route
Cycle the day's selected route
Option to ease up the route
On this route we are able to offer a shorter version with less elevation. Let us know how your legs are and we will advise the changes of the rerouting.
Coffee stop
at a cafe found on our way
After Cycling
Light lunch [Optional]
after the ride we may have some lunch at a local restaurant and avoid feeling empty (the cost of the lunch is not included)
15:00Ferry to Piraeus
Heading back to Piraeus port
16:30Shuttle to the hotel
We shuttle you to the hotel.
17:30Arrival at the hotel
Things to see
Archaeological site of Kolona
The archaeological site of Kolona is situated on a verdant slope close to the main harbour. Discoveries in the area prove an uninterrupted human activity from the bronze age since the Byzantine era.
Temple of Aphaia
The archeological site of Aphaia, with the exceptionally preserved ancient temple, is situated on top of a pine-covered hill, in the northeastern part of Aegina.