Lunch Meals in Leonidio: not before 17.00.

Call the businesses to reserve a spot; occasionally they get very busy.
The majority of the restaurants do not offer lunch before 17.00hrs. We understand that this can be frustrating, however, we like it that way. The business owners, normally actively engaged in serving or cooking the food, they do appreciate their time with their families, resulting them to start all the preparations for the day, during late afternoon hours. There are a few businesses that offer lunch options and you can find all about them below.
Enjoying a meal after cycling day
As the years pass, we cannot omit appreciating the effect a day of cycling has on our appetite. Profoundly, no cyclist can argue with that. We took the time to describe a lot about the excitement Leonidio can offer to cyclists, but what is happening after, when the body needs to get those calories back?
Well, not to worry at all. You are in Leonidio, and people here they know what good food means.
Vegan Cyclists: is there any food options?
Even though there are no vegan dedicated reasturants in Leonidio, the plethora of the locally produced vegetables, the famous "tsakonian melitzana" (aubergine or eggplant) and local recipes with beans (try the "giants") or okras will not only comply with your vegan standards, but will prove that some traditional foods exceeds any taste expections.
Mitropoli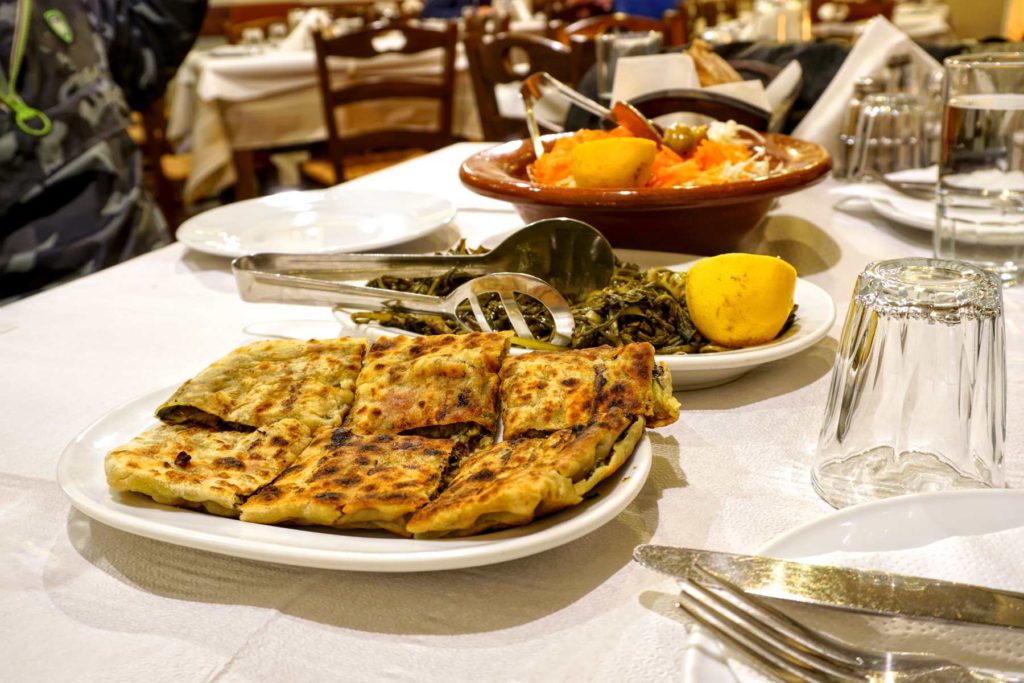 Traditional food made out of the best ingredients. Everything is handmade and this is the place where the locals go to taste some authentic recipes. The owner, known as Dimitris, is the guy that serves the food and he is there to welcome everyone. If the place is busy he might not be as talkative, but this doesn't mean that you are going to be neglected. Try the green pie, the veal in red sauce and the salads.
Tel: +30 2757 029115 – map
Mouria
One of the oldest tavernas in the area. The owner and cook, is in the business for the last 25 or so years. He doesn't trust anyone else with the cooking and he i am very particular about the ingredients he uses in his recipes. Try the "Papoutsakia" a traditional plate with eggplant and meat. Yummy!
Tel: +30 2757 023292 – map
En Leonidio Pizza n Pasta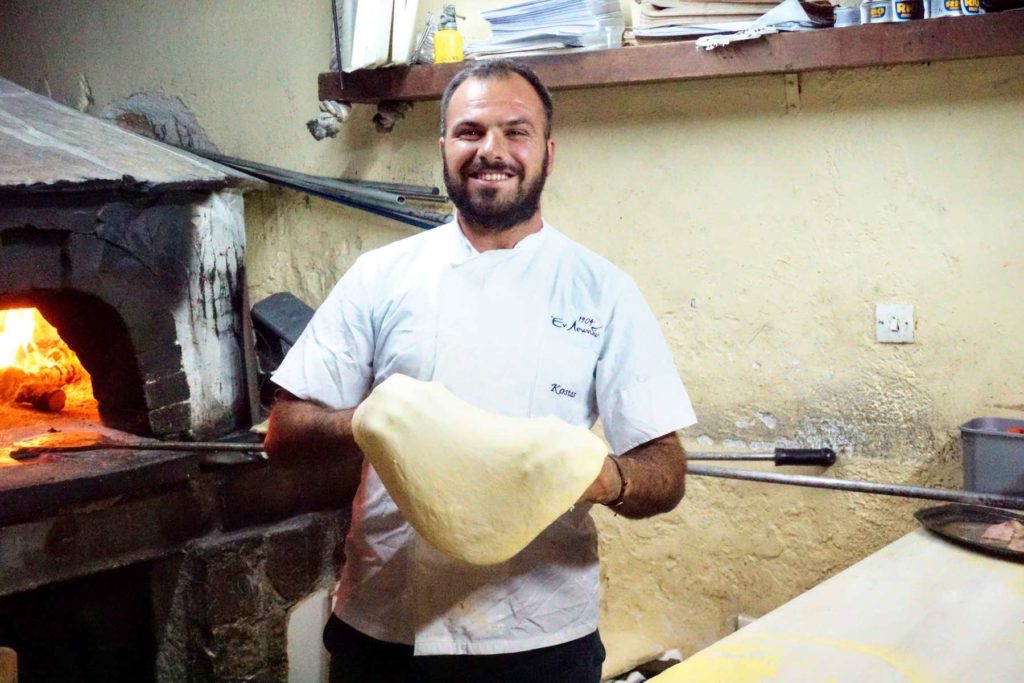 Have that place just came out of a fairytale or what? The restaurant's old wooden shelves are embellished with items used by the locals at least three generations ago. It resembles a warm and welcoming museum, but that wouldn't be enough to claim a place in our article 🙂 The food here is simply amazing. The pizzas Kostas prepares are placed on a traditional ceramic owen, heated up with wooden. It is not a simply thing to make a pizza perfect but Kostas succeeds every time. Try also the pasta; huge portions, great taste and quality – do not afraid to order yours al dente.
Tel: +30 2757 022068 – map
Myrtoon
Probably the best dining option in the region. Even though it is located a bit far away from the centre of Leonidio it worths you getting there and enjoy the sea view. We have personally interviewed the owner, mrs Manesis, and we found his standards very high. Those are completely in line with the exceptional food served here and with the reputation the business has among the locals. Do not miss trying the Greek Pasta with fish (Kritharoto). Lunch is also served here.
Tel: +30 2757 051339 – map
Prynateio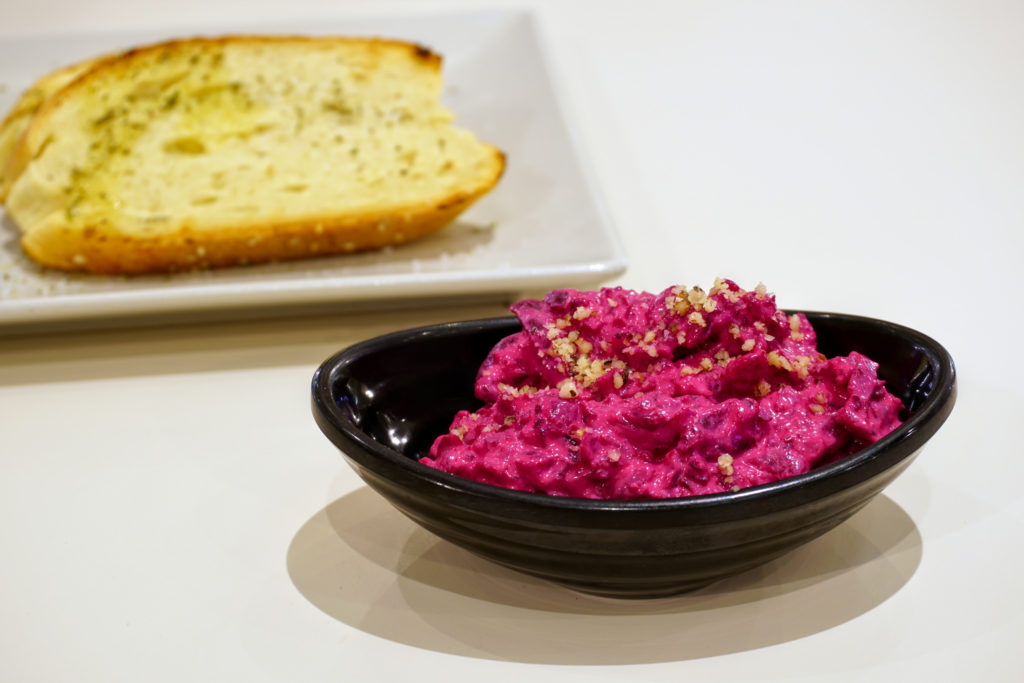 Overview: Traditional flavours with modern touches and great atmosphere. We liked the salads and the great variety in appetizers. We strongly recommend to fill your table with small plates and share all the tastes. You will be greatly rewarded 🙂
Tel: +30 2757 023150 – map
Cafe Aigli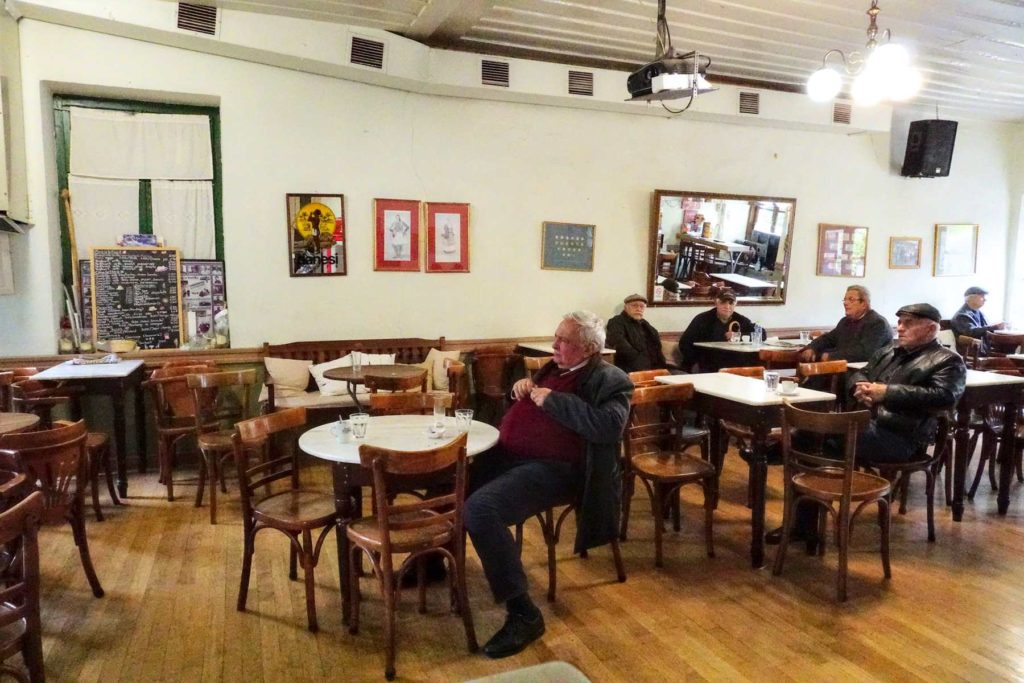 This is a lovely cafe in the centre of Leonidio. Here, you can get a very good idea on how the locals socialise, by drinking their coffee or tsipouro while sharing the news. It is a great option to have a light meal, try their Ntakos Salad, and relax. We normally visit this place right after the ride, to enjoy a few small dishes and drink a beer… or two.
Tel: no phone, but who needs that – map
Any feedback?
We have visited all the restaurants in the area of Leonidio and we share what we found out to be the best options. There is no advertisement or benefit of any kind, other than cyclists enjoying their meals. We keep all of our material updated and your input is all we need to make it even better. Therefore, if you find anything which not right or you discover something new, please send us an email at leonidio@grcycling.com.