Elevation, you cannot avoid it, but you can manage it
Event thought going uphill cannot be avoided, cyclists visiting the region, can choose how to structure their cycling days. Definitely, this region can cover all the range of expectations. For the ones who seek to challenge their limits, they can do so both in terms of mileage and elevation gain – rides with more than 150km and 2000m of elvation it not a problem here.
For the ones who by principal follow a recreational pace and seek to explore the landscape and the authentic villages taking all the time they need, they can choose to cycle shorter distances and avoid the strenuous climbing parts. Keeping the cycling routes close the valley located between mt. Olympus and mt. Pierria, would require parts of short efforts to overcome a few hills, occasionally steep. Most chances are, that the scenery around is going to be a great distraction during your uphill pedalling, which in our case, we found it be extremely pleasant.
Road conditions and traffic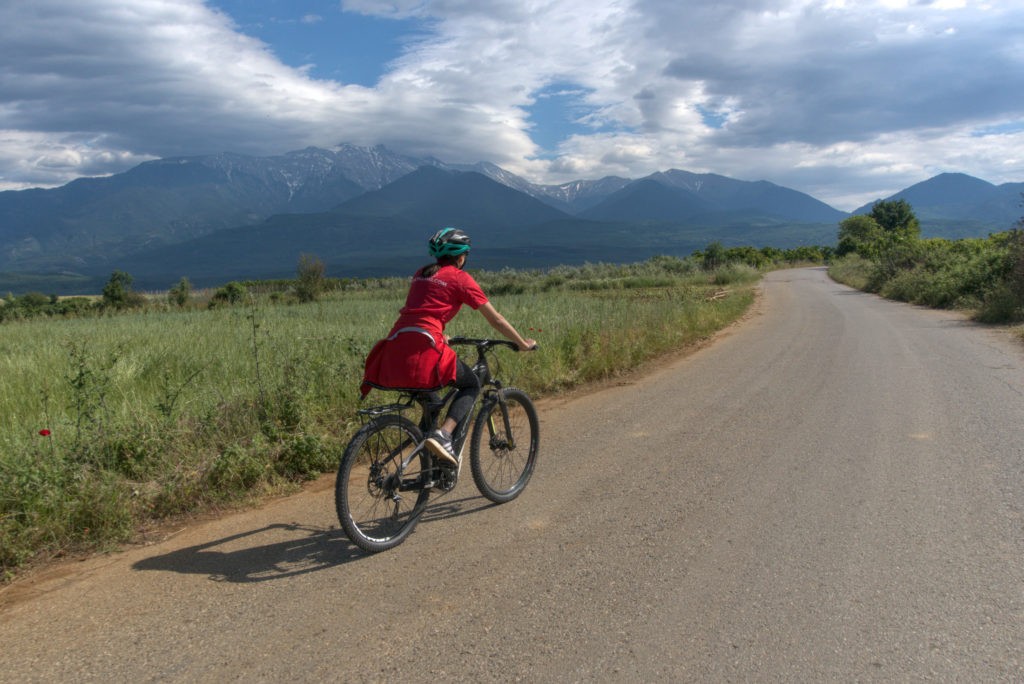 Every road is on absolutely great tarmac conditions. Those roads however, are frequently occupied by cows or sheep, pleluding the easy to zero vehicle activity. It is no surprise, that when cycling on roads which are mapped as main ones, a cyclist encounters no car for hours.
Gravel roads: a must thing to do
Whether your preference is solely for cycling on tarmac, we strongly suggest not to hesitate deviating a bit and try investing a few hours one those gravel roads or medium difficulty, requiring no previous off-road experiences or a special bike for doing so. That way you can expand your options for looped routes, since most of the villages are connected by both normal and gravel roads.
On the other hand, if you are familiar with MTB riding, you are going to get thrilled with the nature of the surroundings and the breathtaking views of mt. Olympus. Please note, that technical and mapped trails, do not exist yet, without meaning the total absence of trails. The ones founds here are typically as shaped by the flow of the water or of the amimals passing. Those naturally shaped MTB trails oftenly require an extremely good level of bike handling, and should be limited only to those who feel, and are, confident enough.
Do not miss the fun!
During your rides, or on your rest day, feel free to hike and experience all of those offered by this exquisite region around the mt. Olympus. During the warmest day of our time there, we found a river stream and we just… jumped in. Why staying in your room?
Waterfall vs Watermelon
It happened that we had a watermelon with us, which we left to get cold in the water. It just happened 🙂