A journey, always a good thing.
With my mind set in a sensitive, vulnerable, self exploring orbit, result of a personal process to become more aware, the company of two friends, Frank and Matthias, turned this internal journey into memory which will last forever.
A journey…
…think of a mental one and your are thrilled with the things your discover about your thoughts and your way to perceive things around you
…think of an actual one, under the Greek light, by the sea, and let your senses feel the nature's grace.
Combining those two, on my…, words can never be enough.
Frank and Matthias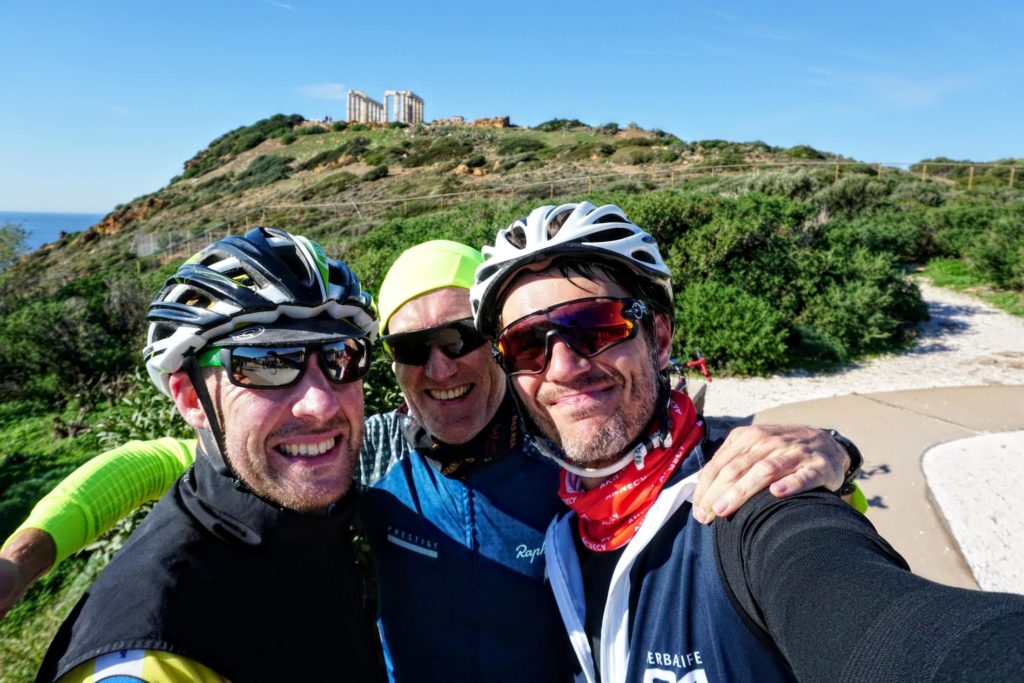 Those two gents are very important to me. Asking myself why, I cannot think of any other reason than their warm hearted openness and their inviting spirit, to share emotions and feelings. I have the impression that their daily routine requires this trancented epitome of our human existence, to be suppressed and forgotten. How fool the marionettists of our world are; to think that those two men can submit to their practices. I smile, when I think of them, cause all I see is the play being orchestrated the other way around, by the very marionettes 🙂
It only takes a few moments for them to leave the social tuxedo aside and, like kids, get themselves open, ready to feel, laugh and play!
Catching up
It has been an extensive period of time since we last saw each other. So long, that my mind started to gradually place the very reasons of my friends importance into the assurance of my oblivion. It was Frank, leaving no room for negotiations on the ride's terms, who got me awaken. That made me realise how comfy laying back and waiting from others is. At the same time, he helped me to understand how critical is to avoid getting trapped on those tempting webs of apathy and inertia.
We meet each other, and in seconds our voice tone was progressively pitching louder, clearly signaling that our buoyant mood was already a fact. We liked that! It was only a couple of minutes later, when the familiar sound of the freehub sounded, as to melody written by a talented, yet to become famous, Austrian composer.
We shared news and updates from our lives. Not all of them were lighthearted or joyful, that is life after all. Both of them are going to experience some major changes in the near future. I could sense an ocean of thoughts whirlpooling on top of their minds, and I couldn't stop mine joining that frenzy. The talking was cheerful, filled with a profound touch of enthusiasm. I noticed that we were looking each other, literally by turning our heads to face the one we were addressing to and coming closer so that we would give a friendly pat on the back, as a mischievous way to overcome the boundaries of us keeping our balance on the bikes.
Riding along the coast
That playful talking did not last long. The first views of the sea, with its shimmering, blue waters, started to claim intensively for our attention. How helpless we were. All the importance of our topics was, almost instantly, dissipated, right there, in front of our eyes. Our riding became more structured, more individualistic. We sought no talking, no thinking, just hearing the wind, feeling the gentle sun of Greece on our faces.
That wonderful feeling I felt there, made me realise that the most important part of the human communication is, quite frequently, carried out in absolute silence. Being close, no words; everything that follows is already shared.
The enthusiasm and the secrecy of those moments, emerged an absolutely childish part of myself. I started by humming songs that randomly were coming into my mind and progressively, I ended up singing them as loud as I could, always having a smile on my face. I asked those two gentlemen for their forgiveness about my intrusive, acoustic annoyance. The only thing they replied was "it is ok". Politeness, such a virtue of them, even though they were suffering by hearing my wrong notes and the improvised lyrics, half in Greek and half in English.
Temple of Poseidon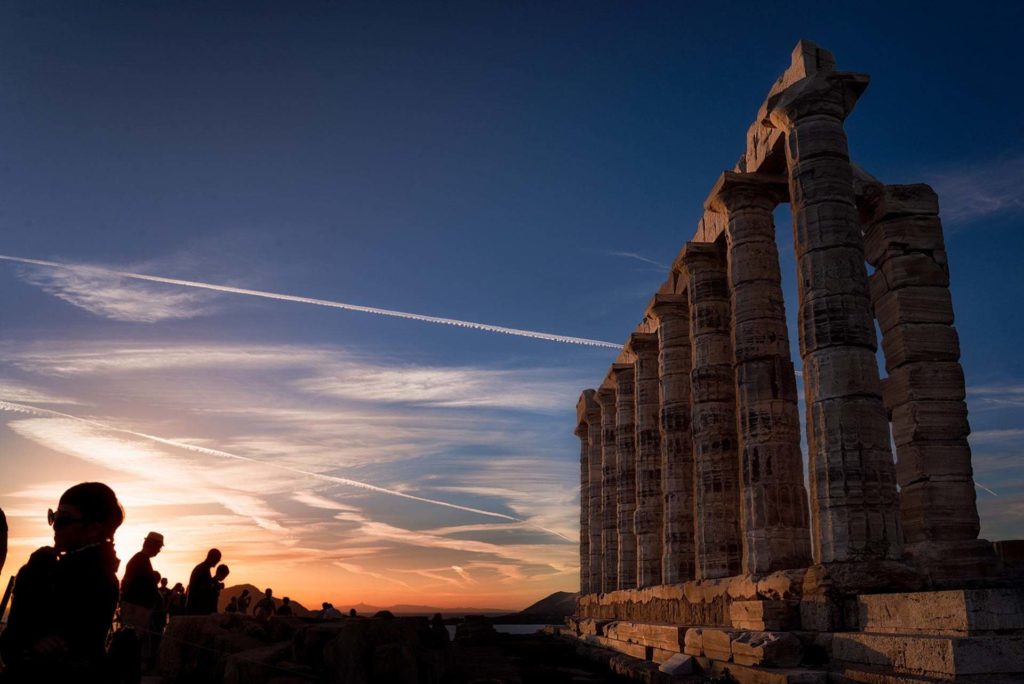 I wonder how many bike rides there are in the world that can include a quick stop at a location, which is as perfect in all aspects of aesthetics and significance, as the spot where the Temple of Poseidon is situated. The ancient Greeks managed to see far beyond their time, with their wisdom and logic to be their ultimate tools in their effort to produce this marvelous heritage. Every visit we pay to Attica Peninsula southest point (Sounio), confirms that their choices where meticulous and precise, as a way to conquer immortality. Who can argue that they haven't succeeded?
Coffee Break at Lavrio
A 30 minutes effort got us to the little town of Lavrio. The temperature was already 18oC and a table by the water was all we needed to enjoy a coffee and share more of our news. The splashing sounds of the waves landing upon the sailing boats hulls were orchestrating one of the many nature's symphonies and it was just the perfect background music for our agenda.
No one was in a rush. The coffee was finished quite fast, but the talking had a long way ahead. I remembered our postures to be laid back, with all of the our arms length to be in contact with the chair and our legs almost stretched. We all resembled a comfy king observed through a Dali surreal lens. Yeah… "melting kings", that's what we were.
Thinking that again, it is definitely the eloquent meaning of the words "Persistence of Memory" that drives me to write this article. Funny the way mind works.
The hilly part of Sounio region
Right after our coffee break, a 4 km long climb, traversing a characteristic pine forest, will offer us the gift of a stunning panoramic view. The sun had already started to get lower and its yellowish, warm rays created a shinning mirror reflected on the sea water, of which the edges were nothing else than the coastline of the Attica Peninsula. This view signaled the beginning of the descent, on a perfect tarmac, all the way to the sea level. What a joyful moment, that was.
The end
On our way back, we sadly, and quite obviously, realised that our food management was not wisely planned. I can recall the unease feeling of my empty stomach, trying to sing its own tune as loud as possible, almost competing my ongoing sonatas. However, eating anything that could take away the hunger, would be more of sin than a relief. The reason? What else, a meal prepared with the best of ingredients, following the authentic greek gastronomy and a fresh, perfectly grilled, fish served with a discreet taste of olive oil; all those by a setting sun.
It is exactly that point, where the mind overcomes the needs of the body and elevates the essence of a meal to a sharing mystagogy, with all the senses playing an equally important role in this experience.
What a unique way to learn about yourself. The more the beauty you get from the people you choose, the more the fun this process has. Guess what… that is all around us.
Only two things you need. One is to just keep you eyes open! The other is a bike 🙂